About the Founder/Curator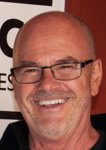 Bill LeVasseur was born in 1944 in Presque Isle, Maine. He grew up in the New York City suburbs and attended Nyack High School. He graduated from the University of North Carolina/Chapel Hill in 1968 with a BA in Economics. Over the course of his 30-year career in advertising, he and his wife Heidi, moved their family to both Mexico City and Brussels. In 1997 he retired from the advertising business and moved to San Miguel de Allende.

Bill and Heidi built a retirement home in this charming colonial town and converted it into a bed and breakfast, Casa de la Cuesta, which has been in operation since 2000. They have three sons, all married, and seven grandchildren.

Bill has been collecting Mexican ceremonial masks for as long as he has been in Mexico and still travels extensively to see and film dance ceremonies and acquire masks. His mask collecting hobby has now become an avocation to document and share the indigenous ceremonial customs with mask museum visitors, college audiences and, importantly, Mexican school children. Bill´s wife, Heidi, would characterize his interest in this subject as an addiction for which he needs immediate medical intervention.
Masking is a universal phenomenon. In most cultures around the world, masks are worn to protect, to symbolize social status, to exalt, to mock and to amuse. They transport the wearer from the world of the ordinary into a world which is otherwise out of reach, permitting the wearer to become an actor on the stage of his or her dreams-to act out fears and fantasies repressed by convention in ritual condemned by society. Masks serve as vehicles through which tensions are relaxed, dilemmas resolved, social taboos bridged, and lines of communication established
Dr. Marion Oettinger
Dancing Faces: Mexican Masks in a Cultural Context